These five stars don't rank a book. They don't rank a hotel. They don't rank a movie, either.
Well, I guess you could say they could, if there were hidden cameras filming me throughout the day on May 4, and if a film were released from that footage.
That day has been among the most unforgettable of my exchange, and in terms of individual days (as opposed to chains of days or weeks), it is number one.
For the first time in my life, and undoubtedly not the last, I roamed Paris with only one other friend (
Lydia
), discovering the city on our own. And what an adventure that was.
(For background on how I got this to happen, read this parentheses. If you want to skip this and go right to a recount of the day, then be my guest.
All right, so the SAT is a national American exam that high school juniors and seniors take in preparation for college. Apart from the main exam, which includes reading, writing, and mathematics, students can choose to take the SAT subject test. There are various topics to choose from, such as history, sciences, and foreign languages. Conveniently, all these tests are available internationally and can be taken at tests centers around the world for students interested in going to college in the United States.
I, being fluent in French now, decided to take the French subject test because a) they were easy points to obtain and would work very well in my favor, b) the testing center was in the American School of Paris, and c) the tests would only last an hour in the morning, giving me the rest of the day to, I dunno, maybe go to Paris?
Glad my mother thought it was a good idea as well, I signed up and got Lydia to sign up too. We were to be hosted by Julie, the daughter of my district governor, who lives in an apartment in a Parisian suburb.
Lydia and I took the test Saturday morning. I was shocked upon entering the American School of Paris, because it was exactly like an American High School, a type of institution I have not seen in practically a year. I don't know whether I embraced the familiarity of the atmosphere or not, but either way, I'm pretty sure I did well on the test. The written bac blanc I had to take on Friday morning certainly made it easier in comparison.)
To get around Paris that day, we purchased a youth weekend metro ticket that cost only 3,65€ and granted us unlimited access to public transportation in the city. "Worth it" is an enormous understatement, considering a ticket worth one trip in the metro costs 1,60€.
Look at all the stops we found ourselves in...
The black dots represent a place we got on/off
Our first stop, to kick off the day, was the Trocadéro. As we descended the train and made our way to the exit, an accordionist played his instrument, his music echoing in the station, as if he was providing a soundtrack for us. From the base of the stairs leading up to the street, we could see the sun that indicated a clear day out shining down on us, bathing us in its light as we gleefully ran up the stairs to arrive at the sidewalk, and as we ran some more to arrive on the grounds of the Trocadéro, laughing along the way. And there it was where it has always been, the Eiffel Tower, standing resolutely against the horizon. Lydia and I gazed at it for a few moments, the symbol of the country we love so much.
Although I have already seen that view many times, it was never more beautiful to me than it was at that moment.
We felt victorious. We had the whole day ahead of us in
Paris
, so we didn't stay too long at the Trocadéro. We decided to go to the Champs-Elysées next, so we went back down into the depths of the metro, leaping into the train as the garish alarm rang out and the doors slammed shut, sealing off the passengers an instant after we both reached its interior. A few stops later, we were at the Champs-Elysées, the supposed most beautiful avenue in the world. With the intention of buying eyeliner at Sephora, we headed there. I was pretty satisfied with my purchase, considering its quality and of course where I bought it.
We continued to meander, taking in the sights, finding it at times difficult to believe what we were currently experiencing. At noon, we went to the "Espace Culturel" of the Louis Vuitton store to see an exposition on letter correspondences.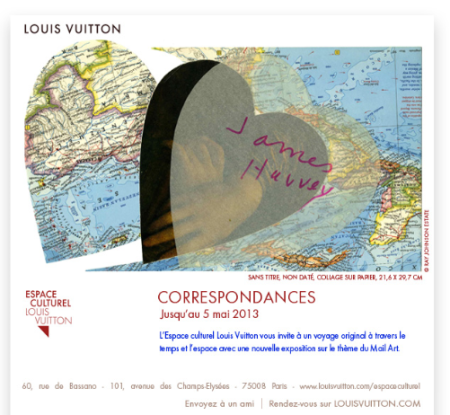 "Correspondences, until May 5 2013. The Espace culturel of Louis Vuitton invites you to an original voyage across time and space with a new exposition on the theme of Mail Art."
The entrance was a large, dimly lighted room with three elevators and men in suits serving as their operators. That of the elevator we entered was a stunningly handsome young Frenchman (I sadly have no picture) who told us, as we established ourselves in the black plush-walled elevator, that during the ascent we would be
plongé dans le noir
/"plunged into the blackness." Thus, once the elevator doors slid shut, we found ourselves in pitch darkness in the company of a very attractive Parisian male. 7 floors up, the elevator opened, and we stepped out into the display grounds of the exposition.
Providing light onto the items being showcased were floor-to-ceiling windows that looked out over the Champs-Elysées and the rooftops of Paris. The view made us gasp in awe.
Aux Champs-Elysées

♫
We could see the Butte Montmartre in the distance
A familiar sight
Walking around and looking at various letters and pieces of art, one sentence we read that particularly struck us was:
Never be obliged to say what's on your mind...but always be obliged to do what's in your heart.
Keeping that in mind but heeding the call of our hungry stomachs for the moment, we decided to go have lunch. I already knew where I wanted to go- a restaurant named Flam's, but more specifically, the one in the deuxième arrondissement. Why? Because it was the first restaurant in Paris I ever ate in, more than three years ago. (Never mind how I was able to find it, just know that I've been keeping a daily journal since the 14th of December 2008.)
Lydia with our flammekueche, a specialty from Eastern France
So good.
While enjoying my flammekueche, I reflected on how I was that day the last time I was in that restaurant. I was with the other 8th graders, and we were all tired from the flight we just took. I had a terrible loss of appetite, very minimal knowledge of French, and a tremendous desire to discover Paris, a city that to me then was new, strange, and completely unexplored. At that point in time, would I have imagined that one day not too far in the future I would find myself having lunch once again in that restaurant, with one of my closest friends, alone in Paris, being able to navigate the metro and speak French?
Only in my wildest dreams.
Feeling fully satisfied from our meal, we wanted to do some walking. We got off at the St-Germain-des-Près quarter, an area of Paris renowned for its jazz and literary scene (Ernest Hemingway frequented a café here, Les Deux Magots). Of course, as we walked up the stairs of the metro to emerge onto the street, a jazz band had to be playing a lively tune, adding even more color to the idyllic springtime scene.
They were on the edge of the sidewalk
"Writing is a journey"
Check out the weather we were blessed with
The oldest church in Paris.
Once we tired ourselves out walking again, we decided to revert to our American origins and visit the Starbucks in the 6th arrondissement. Sharing a refresher and a Nutella crêpe, we chilled on the second floor, chatting and gazing out the window.
Don't get views like this in the States.
Our next destination was the Montparnasse Tower, situated right across the train station I always arrive in upon going to Paris. I had always assumed that that tower just served as some sort of office building, but after having remarked ads in the metro boasting its panoramic views of Paris from the top, I decided we had to go there.
Well, let's just say we didn't regret it one bit.
Seeing Paris from all the way up there, its legendary monuments mere specks amid clumps of green and masses of its classic white buildings, quite literally took my breath away. I could even feel chills down my spine upon contemplating the vastness of the view. It made me re-realize how insignificant and how tiny (and I am not just talking about being 5 feet tall) I really am. There are billions of people in this world, this world that may be a cosmic speck but offers me an endless amount of opportunities. The least I can do for it is to try to make my own impact on it, no matter how little the change.
There was Paris in all its beauty, more than 200 meters underneath me. Lydia and I took about 30 minutes walking around the viewing platform before we went back down.
The last thing we did was have a drink of chocolat chaud à l'ancienne on the St Louis island on the Seine River, but we couldn't savor it properly because we had to go right away to Lydia's train station. Once I said good-bye to her, I met up with Julie (our host, a musician living in a Parisian suburb), and by my request we visited the Pont des Arts as the sun began to set.
Grayscale to set the mood
Walking along the bridge, I noticed a man dressed peculiarly, with a pineapple on his head to be exact.
Julie explained to me that he was doing his l'enterrement de la vie garçon (burial of a boy's life). It is a French tradition that I had never heard of until then where an engaged man goes around dressed like a wacko doing crazy stuff in public for a day, and then he and his friends go clubbing during the night. I was very amused with the idea, and I thought of how much about France I still don't know. Of course, there is already so much I know, more than the superficial things one is taught in class and movies, but that just goes to show how much there is to discover in every country around the world, with its culture, (food...) cities, and people. Whenever I go out, especially when I see someplace new, I always make sure to stay attentive. I never know what oddity might pop out at me next.
The day terminated well, with my feet feeling terribly abused after walking in three inch boots the entire day. I was extremely satisfied with everything Lydia and I had done. It was not only one of the best days of my exchange, but definitely one of the best of my life so far.
I would say it's my last time in Paris for a while, but up until last month I did think that my visit during Eurotour would be my last time in Paris on my exchange, so I'll just say that I never know what might come.
54 days are left for me in France, this beautiful country I proudly call one of my homes. I can't anticipate what they will bring, but whatever happens, I will embrace it with all my heart.