Well folks, it's been a whole year since I posted
my first blog entry
.
And it's been two weeks since I posted my last entry, so I'll write about what has happened since then.
June 12, last Wednesday, was an important day on my exchange, because it was the last day of school! I can safely say that I have never been more happy for school to be out than I was then. After all the days finishing at 1730, the work, and the bad grades I managed to start getting used to (disclaimer: my overall grade ended up being above average, despite the fact that I did terribly on a lot of tests), it all finished at noon last Wednesday, just like that. Quite a few kids skipped, seeing as the final grades had all been calculated and there was nothing else that could be done on the last day of PE and econ. However, I decided to go, just to finish the year off right until the end.
Afterwards, I had lunch with my friends Noémie and Flavie, and then we took the bus to Niort. We spent the afternoon roaming the boutiques and lounging on the grass.
They were leaning down since they both bought new heeled sandals, making them even more tall than me...
Parthenay is well-known for its cows
That, however, wasn't the last time I saw them, because I knew I would see them again when I returned to the high school to take the bac, the final exam, the first of which was today. But that's for later.
As I have mentioned in
a previous blog entry
, I had planned to see a special friend in Paris for the day on Saturday, June 15. She and I, both being organized girls who are proactive in making things happen, managed to pull this off.
That friend is, of course, Sari, a girl I would consider my best friend from Eurotour (the one who stalked my blog before even meeting me), and we spent our day quite literally running around Paris.
As the train pulled into the Gare Montparnasse, I uncharacteristically got up from my seat before the train came to a full stop (which a lot of French people do) and, my heart racing, stood by the door. As it opened, I leaped out of it and brisk-walked towards the waiting quay, knowing she would be there. I saw her at the edge of the tracks with a camera up to her face anxiously filming my arrival. When we noticed each other, we squealed out of sheer delight. I ran towards her and we flung our arms around each other in a tight hug, laughing deliriously. We didn't stay that way too long, however; we had a full itinerary planned and absolutely no time to lose.
After I purchased my 3,65€ unlimited metro ticket, we hopped on line 6 and got off at Denfert-Rochereau to see the catacombs.
Unfortunately, we did not anticipate nor read about the line of people stretching to the other end of the block that, according to a lady we asked, would take about two hours to get to the front, so we decided to bail and pick something else to do.
After taking line 4 from Denfert Rochereau, we ended up in the Saint Germain des Près quarter, the same place I was in with Lydia
last time I went to Paris
. We went to a papeterie called L'Ecume des Pages, buying some gifts to bring back with us, before returning to the metro station and planning our next stop.
This candid picture of me just screamed "vintage polaroid," so here you go.
Originally having it planned for the afternoon but deciding it'd be more time-economic to go there right then, we went up to the Montmartre quarter using line 4 to Barbès-Rochechouart (I LOVE how that is pronounced... imagine something like "barbezz rosheshwar") then line 2 to Blanche. Immediately upon emerging from the depths of the metro at this station, we were greeted by the sight of the Moulin Rouge across the street.
I wanted to see the Moulin Rouge because the movie of the same name is one of my favorites and because I had only seen it once before from the bus. Up the street was a famous café called the Café des 2 Moulins that I also wanted to see due to its role as a main setting in another one of my favorite movies, Le Fabuleux Destin d'Amélie Poulain.
Which leads me to conclude - while most girl best friends watch cheesy romantic movies together, Sari and I take it a step further to actually visit the places they are set in.
Rather than go back down into Blanche, we rushed through the Boulevard de Clichy to find the station Place de Clichy, where we boarded line 13 taking us directly down to Varenne next to the grounds of Les Invalides.
This candid picture of me screamed "this belongs in a travel magazine" so I decided to add a fake sun shining in the corner by the Eiffel Tower, yeah
Once our tickets (which were free!) had been acquired, we took a look at Napoleon's tomb.
I had been there once before, on my 8th grade Europe trip. Sari wanted to see it and, since I remembered that it was free for anyone under 18, we added it to the itinerary deeming it worth the visit.
We didn't stay too long, as we had an appointment at the Bateaux Mouches. To get to the iconic boats, we headed back to Varennes, took line 13 to Invalides, then RER C to Pont de l'Alma where we then, panting and ready for a good meal, proceeded to cross the Alma Bridge to arrive at the Bateaux Mouches. For our reservation on a lunch boat, we had to board before 1245, and after a rather hectic morning, we made it in time!
Upon boarding the lunch boat, accordion music was playing live from a very talented accordionist. All the tables were alongside the windows, so we got a view of the Seine as the boat moved along, past famous landmarks, for an hour and forty-five minutes. The lunch was heavenly, the conversation sprightly, and it was a perfect way to spend time with an amazing friend.
The interior
The menu
The adorable accordionist
My entrée (appetizer): salmon tartare, sundried tomatoes, and olive oil pearls (I was not aware that such things existed)
Duck, seasonal vegetables, and this tasty herb cracker
Pineapple carpaccio (thinly-sliced, chilled pineapples) with strawberry syrup and coconut sorbet
Standard picture with the Eiffel Tower in view
Two-in-one deal
Once that was done at about 1445, our final stop was the Montmartre butte. From Alma-Marceau, we took line 9 to Miromesnil, changed to line 13 then found ourselves once more in Place de Clichy, then took line 2 to Anvers. From there, it was a straight and tiring walk up the butte to get to the Place du Tertre, the artists' square.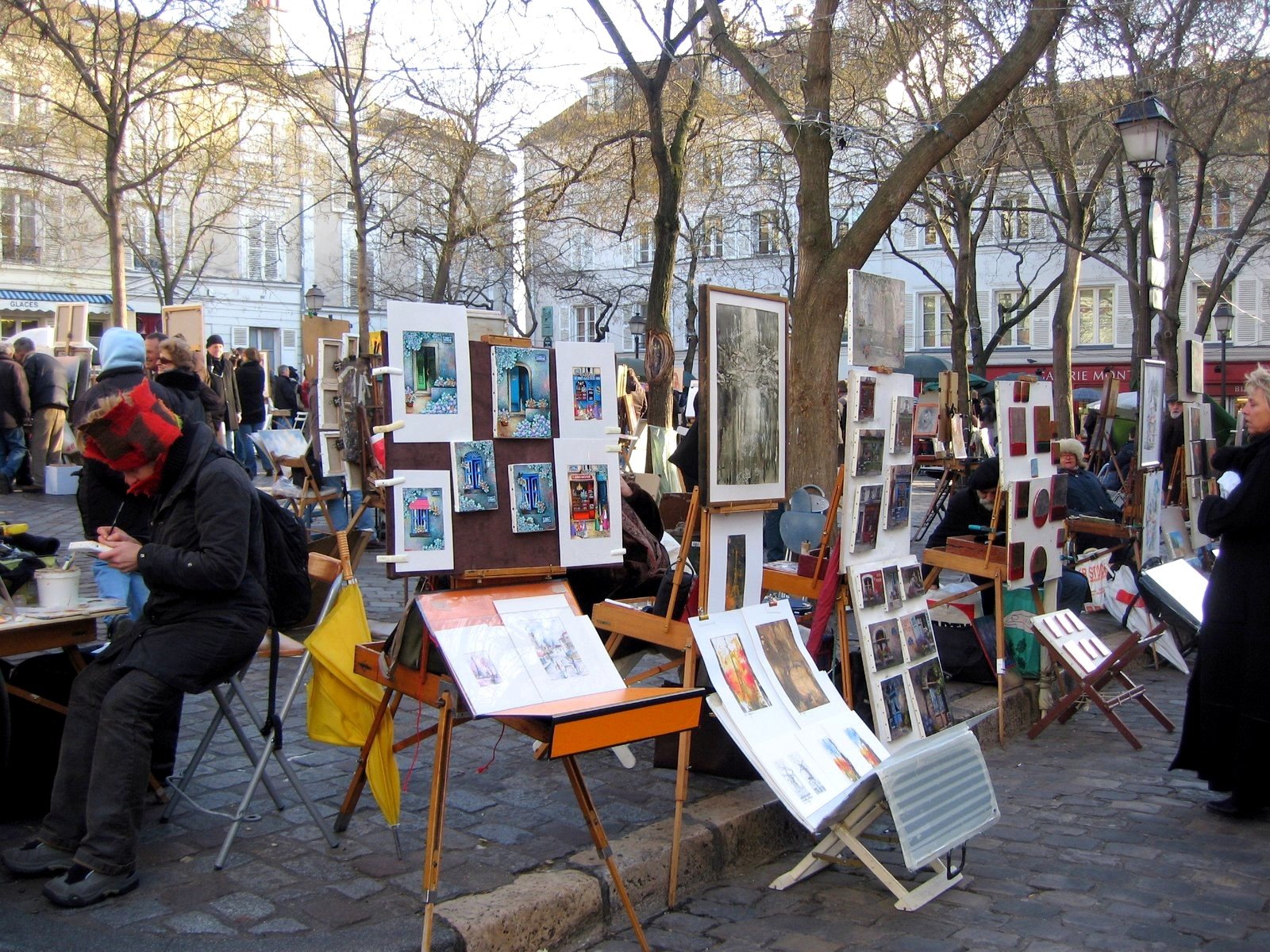 I didn't take this picture. This place is always stiflingly crowded, so I stole this picture off the internet.
Typical Parisian side restaurant. (I did take this picture.)
I would draw HIM anytime. ;)
After one round through the Place du Tertre, we bought some souvenirs (like matching Paris scarves) and then took pictures of the Sacre Coeur and the panorama that could be seen from the steps in front of it.
While I have already seen an aerial view of Paris many times, the vastness of this beautiful, romantic, eternal city never ceases to awe me. :)
Back in Anvers, we took line 2 back to Place de Clichy, then line 13 to the Gare Montparnasse. We were there at about 1640, since my train would leave at 1712. There, we did our secret handshake and bade each other good-bye once more.
For your information, yes, that is a Starbucks.
However, I wasn't that sad because I really did think the end of Eurotour would be the last time I saw her on this exchange.
Besides, I know we're going to pull off another stunt as crazy as this one in the future. ;)
The next day, Sunday the 16th, Claire and I left to go to Brooke's place in Château-du-Loir (NOT to be confused with the famous châteaux de la Loire).
Departing on train from the Poitiers gare, my home gare
I was happy to know that we had a two hour layover in Tours, the city whose
train station
I fell in love with the first time I found myself in it. But for once, I actually exited it!
Its exterior, equally magnificent
The hôtel de ville
After nearly 6 hours of travel, we reached Brooke's. The next day, Monday the 17th, we spent the day in Angers. Angers is arguably my favorite city in the Pays de la Loire region of France.
The three of us sat down for lunch at a brasserie; I ordered moules-frites (mussels and fries), a French meal I have really come to enjoy this year. That was probably the last time I'd have them on exchange...
I had these ones cooked in curry sauce!
At one point, Brooke randomly said to me, "Look over there, isn't that one of the outbounds?" I looked over to where she was pointing, and there was a familiar face; however, he had shades on, so I couldn't be too sure. We were about 93,78% sure it was him, though, so we kept looking over. Sometimes, or so we thought, he would look over at us too, but it was only for an instant. We resolved we'd go over there and settle the issue at some point, but instead it was him who approached us! As he neared, I exclaimed, "
On croyait que c'était toi!
" (We were thinking it was you!)
This outbound is Arthur, going to Brazil. He couldn't stay too long as he was in the process of leaving with his mother, but they both chatted with us for a few minutes anyway. Brooke leaves tomorrow, and I leave in 11 days, so seeing him was uplifting to us, and we could tell he was happy to see us as well. If you're reading this, I'd like you to wish all these wonderful outbounds the best of luck for their exchanges. I know I'll be thinking of them my rebound year.
Later that day, I saw Aurore (Tualatin's inbound last year) again!
Incidentally, we were at the same café as
this one
I mentioned way back in September. I was once again drinking my habitual
sirop de fraise à l'eau
.
Thinking, a classic French past-time
The three of us
Aurore couldn't stay too long either since she had exams to study for, but it was swell to see her nonetheless. We knew we were going to see each other again sometime, so it was good-bye for now. I let her know how special of a friend she was to me, since she was, after all, the first French person I got to practice the language with. Look how far I've gotten now.
Yesterday, I said good-bye to Brooke for the last time on this exchange. She was one of those people without whom my exchange would have been drastically different, somebody I could rely on through thick and thin. Sure, I teared up hugging her good-bye, but I know that I'll see her too again somewhere, like I will see everyone who means the most to me. As I wrote in her notebook...
The pink boxes censor personal information that is not provided to the general public.
Though you could probably guess that the names blocked out belong to certain outbound boys, being French and all y'know.
But yeah.
The trains going back yesterday were the last I were to take on this exchange. SNCF, the Société National des Chemins de Fer, won't be having me as a client anytime soon, and it's a sad thought.
On my last train, I made a list of about 30 items of "Traveling by Train - The Little Things." Here are some of the items on that list:
inserting the ticket into the yellow composting machine, hearing the whir and the stamp
the conductor announcing, "attention au départ" right before the train leaves, and this song playing in my head
buying tickets at the guichet, the satisfying noise of them being printed out
Photomatons
the electronic board showing "composition des trains", a little diagram of a train formed out of red-orange pixels with each numbered car corresponding to a repère
At the end of that note on my iPad, I attached this picture of my final time on a train:
It may be the end for now, but one day in the future (probably to meet up with my outbound fiancé again HAHAHA just kidding) I know I'll be invading the SNCF's train stations once more.
That brings us to today.
Today was the first bac I had to take, the written French test. To check out the procedure, click
here
to read about the practice test I had to take for it.
Intending to do my absolute best on it, inspired by some encouraging words my fellow hardworking Asian-American Andy told me on Skype last night, I fearlessly attacked the texts of the corpus.
I snorted when I saw that one of them was an excerpt from The Grapes of Wrath, a book I had to read last year (that I only skimmed because it was too long and not my cup of tea).
The question of synthesis for the texts was, "How do these texts characterize the maternal figures that they talk about?" A question that I found interesting, except the entire time this
French rap song
about appreciating your mom was playing in my head.
I spent two hours on that question before moving on to the main part of the bac.
Had the commentary assignment been to analyze the excerpt from Grapes of Wrath, I would have chosen it in a heartbeat, but the "Invention" seemed more plausible. Drawing from text A, which was the narrator's description of her mom who had just gotten home from a trip to Paris (haha go figure), the assignment was to write a portrait of an ordinary person but in a fascinating manner, thus rendering them extraordinary.
Hm, I thought. Ordinary people worthy of being called extraordinary?
EXCHANGE STUDENTS
But which exchange student?
I chose to write about my host sister Marie, who returned to Parthenay on June 7. I wrote about how she was just a normal French high schooler who dared to spend a year in India, a country completely different from the one she had been living in all her life. I wrote about how I only knew her through photos and internet conversations, but I followed her life, observing pictures I liked and describing them. I wrote about how we finally met for the first time, how her first dinner she ate rice and tomato sauce with her hands because that was how she ate during Indian meals, and how then I saw how much she had adopted her host culture. I finished it off by saying that I am very lucky to have her as a host sister, a fiery girl with her own opinions of the world now that she has seen the impoverished conditions too many human beings live in, and I am proud of what she has done.
Soon it will be my turn to return home and feel like nothing has changed, like my entire year was a dream. But not yet. I do realize that it will be me who has changed for the better, but as for coming home, I'll write about that when the time comes.
I don't really care what the results are on my test; the bac doesn't count for me. I just find it funny how I managed to relate it to exchange.
Everything the rest of my life will have some kind of rapport with this exchange, but what can I say? It only has been the greatest year of my life so far.
And it ends in 11 days.